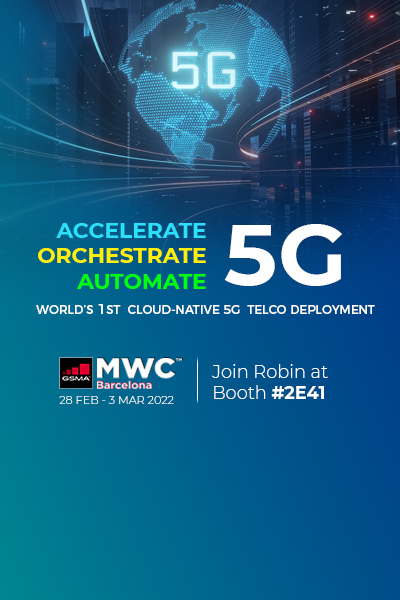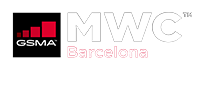 Join Robin at
Booth #2E41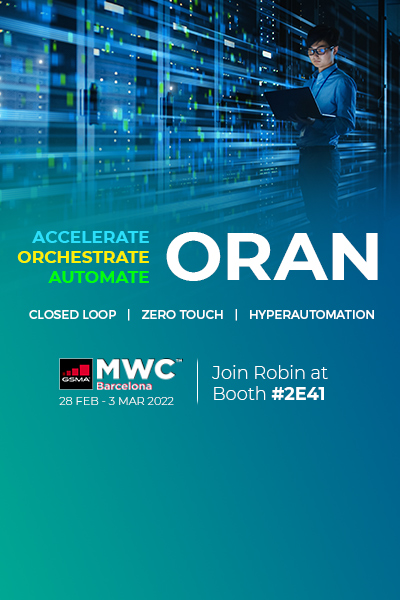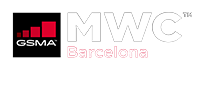 Join Robin at
Booth #2E41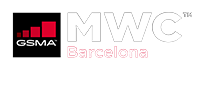 Join Robin at
Booth #2E41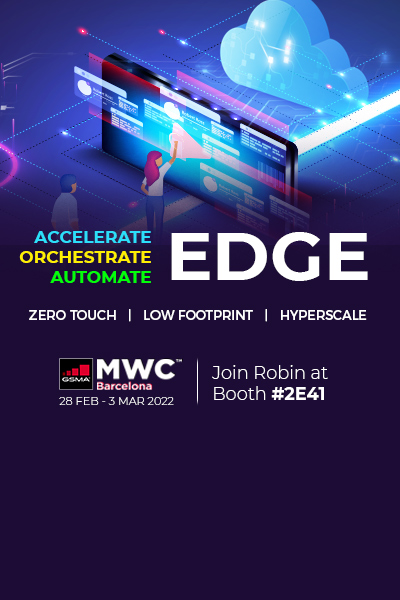 Register for our live sessions
Limited slots
10:00-10:30 hrs
11:00-11:30 hrs
12:00-12:30 hrs
13:00-13:30 hrs
14:00-14:30 hrs
17:30-19:30 hrs

Net.on NetDevOps – Accelerating 5G & Industry Solutions through Network CI/CD and Automation

Presenter

Nikhil Shah

Director, Industry Solution

Perfecting 5G & Edge Experience

Presenter

Gaurav Mathur

COO

Enabling Telco Cloud RAN for the 5G Edge

Presenter

Rachel Chu

Associate Manager, QCT Telco Business Dev Team

5G RAN for Private Network

Presenter

Ramu T S

Co-Founder

Enabling a Cloud-Native Telco: ORAN, Core & Edge Use Cases

Presenter

Brooke Frischemeier

Head of Product Managment

RXR
Celebrate Tech with Robin.io
Networking Reception
10:00-10:30 hrs
11:00-11:30 hrs
12:00-12:30 hrs
13:00-13:30 hrs
14:00-14:30 hrs
15:00-15:30 hrs
16:00-16:30 hrs

Smart NoC Services – Distributed Managed NOC Services Model for Rapid Scaling and Resilient Delivery

Presenter

Ashwani Kumar

Director, Telco Cloud Solutions

Delivering Cloud Native Networks with the Intel® Network Builders Ecosystem

Presenter

Keate Despain

Director, Intel Network Builders

Enable NextGen Firewalling inside your Containerized Environment

Presenter

Keith O'Brien

Field CTO - Service Provider

VM-as-a-Service with Robin and StorCentric

Presenter

Surya Varanasi

CTO

Presenter

Naren Yanamadala

CEO

Building Efficient Networks with Cloud-Native: Unleash Full Network Potential

Presenter

Karim Mchirki

VP, of Product Management

Enabling a Cloud-Native Telco: ORAN, Core & Edge Use Cases

Presenter

Brooke Frischemeier

Head of Product Management
Experience live Robin.io demos at MWC 2022
Bare-Metal-as-a-Service
Robin.io offers hyperautomation that extends to bare metal platform. Learn how to derive significant operational savings and reduce deployment time.
Cloud-Native Telco Platform
Robin.io's Cloud Native Platform provides capabilities beyond upstream Kubernetes that makes containerization of network services on-prem or cloud simple and automated. Learn more.
Open RAN
Learn how Robin.io's RAN-as-a-service solution provides automated deployment and life cycle management operations at scale for millions of network elements.
End-to-End Metal to Service Orchestration
Learn how to enable unified management of 5G and unlock lower cost of operations at scale when running the Edge applications of the future.
5G Network Slicing
Automate infrastructure resource provisioning and orchestration of slice management centrally, saving tremendous cost and resources for massive-scale 5G/Edge deployments. Learn more.
Industry-leading partnerships