Self-service deployment of a Cloudera cluster on the Robin platform demo video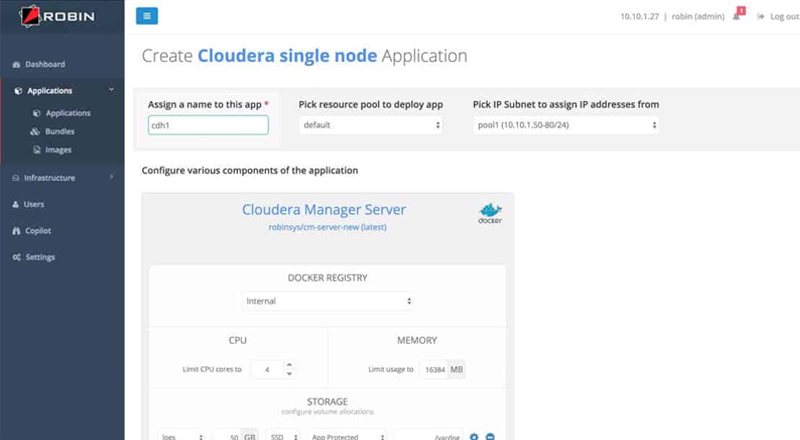 In this demo video, we demonstrate how you can setup a Cloudera cluster with a click of a button on the Robin Platform.
Robin's application-aware manager simplifies deployment and lifecycle management using container-based "virtual clusters." Each cluster node is deployed within a container. The collection of containers running across servers makes the "virtual cluster." This allows Robin to automate all tasks pertaining to the creation, scheduling, and operation of these virtual application clusters, to the extent that an entire data pipeline can be provisioned or cloned with a single click and minimal upfront planning or configuration.
Robin Platform has three components
Robin Application-aware compute
Robin platform aggregates the existing compute – proprietary or commodity servers – and creates a single layer of all compute resources that are available to each application that the enterprise uses.
Container Technology
Robin leverages container technology to consolidate applications with complete runtime isolation. Container is a lightweight, OS-based virtualization technology that allows creation of compartmentalized and isolated application environment on top of the standard OS.
Performance-Sensitive Workloads
Robin is the first and only product in the industry that brings application lifecycle management benefits to all types of enterprise applications – including highly performance-sensitive workloads such as NoSQL databases RDBMS and Big Data.
Appropriate Container Configuration
Robin's Adaptive container technology picks the appropriate container configuration depending on the application types. Traditional applications are deployed within "system containers" to provide VM-like semantics and Robin supports the deployment of stateless microservices applications such as Docker containers.
Zero Performance Impact
When used with bare-metal servers, Robin enables "zero-performance-impact" consolidation of data-havy databases, and other distributed applications such as Elasticsearch, with Application lifecycle management features, resulting in significant operational efficiency gains and cost reduction.
Robin Application-aware storage
Robin Application-aware manager
Agile Provisioning
Simplify cluster deployment using application-aware fabric controller—provision an entire operational data pipeline within minutes
Deploy container-based "virtual clusters" running across commodity servers
Automate tasks – create, schedule and operate virtual application clusters
Scale-up or scale-out instantaneously to meet application performance demands