Financial Services with Kubernetes – Solution Brief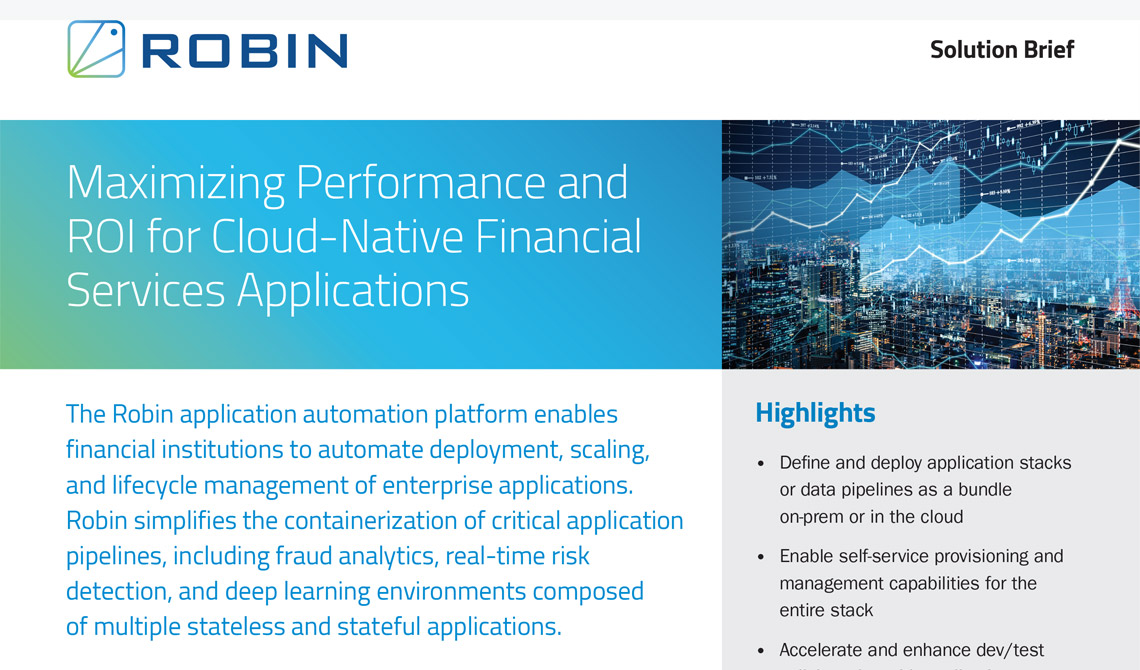 Big Data-as-a-Service with Kubernetes – Solution Brief
Cloud native Financial Services Applications
Robin enables financial institutions to automate deployment, scaling and lifecycle management of enterprise applications on Kubernetes. Robin simplifies the containerization of critical application pipelines including fraud analytics, real-time risk detection, & deep learning which are composed of multiple stateless and stateful applications.
Highlights
Define & deploy applications stack or data pipeline as a bundle on Kubernetes on-prem or in the cloud »Enable self-service provisioning and management capabilities for the entire stack.
Accelerate & enhance Dev/Test collaboration with application-aware cloning
Monitor the health of infrastructure, containers, and the entire application stacks
Dynamically scale-up/ scale-out in minutes, without interrupting application operations
Consolidate multiple Databases like Oracle RAC clusters to reduce hardware and licensing cost
Migrate your customized and legacy application stacks to cloud without refactoring
Protect your critical application stack with application aware snapshots and backup
Digital Transformation Demands Fast-paced Innovation Digital Transformation requires IT services to be delivered in a fast, agile and streamlined manner across the entire organization. Enterprises in the Financial Services industry constantly need to innovate to attract and retain customers demanding a rich digital and mobile experience. It is also critical to analyze security threats across diverse systems and applications in real-time and at the same time meet all the compliance requirements as well as achieve continous availability for critical applications.
The industry is looking at containerization and kubernetes to achieve IT agility, however, there are many challenges that significantly impact the ability of technology leaders to innovate: Infrastructure silos – Owing to years of organic growth, the application infrastructure landscape is very diverse.
Managing legacy applications and modern cloud-native applications at the same time can be challenging. Traditional methods take weeks to provision legacy applications or to provide dev/test refreshes. With release cycles shrinking due to the DevOps culture and modern architecture, developers need much faster turnaround times for their application pipeline that often include legacy applications, as many modern applications depend on legacy applications.
High licensing and Infrastructure costs – Creating dedicated clusters for individual "tenants" (teams, workloads, applications, etc.) is required due to challenges with performance isolation. Each cluster is deployed for peak capacity, leading to significant licensing and hardware costs.
Infrastructure lock-in – Migrating customized applications to the cloud is not easy. Locked into infrastructure choice limits your ability to scale and experiment with new ideas.
Robin Platform Enables "As-a-Service" Experience
Robin is a Software Platform for Automating Deployment, Scaling and Life Cycle Management of Enterprise Applications on Kubernetes. Robin automates the provisioning and day-2 operations so that you can deliver a "Self-Service" experience with 1-click deployment simplicity for developers, DBAs, and Data Scientists