Forrester – Taking Enterprise Apps to the Cloud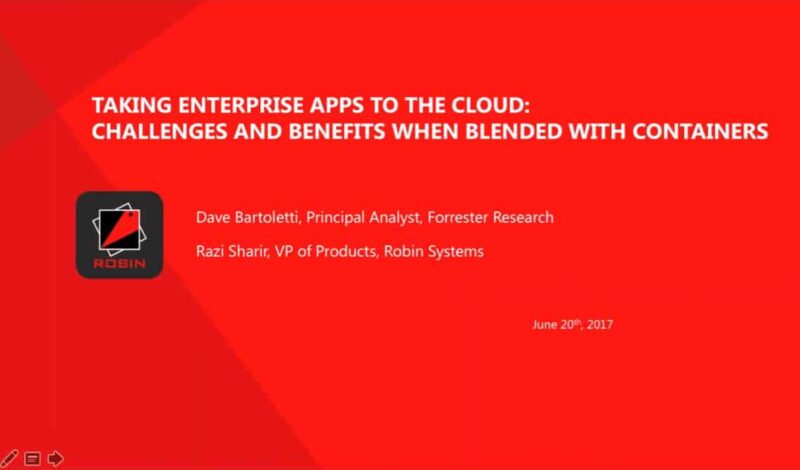 Robin for Big Data
Robin for Enterprise Applications Challenges
Enterprise Applications Challenges
Taking Enterprise Applications to the Cloud – Challenges & Benefits Blended with Containers
Join Forrester and Robin Systems
Enterprise Applications Challenges – While the Cloud seems great for saving on CAPEX (subscription vs hardware) and optimizing on OPEX (greater agility, flexibility), you – like many others — might find out it is not necessarily always as easy as it sounds. Users say that the ease of spinning resources on the cloud does not help with server/resource sprawl, but rather it makes it harder to track and manage.
Looking at numerous cloud use patterns, it is clear that stateless web-scale/facing apps are best suited for the cloud – when a VM goes down, simply bring a new one instead. When it comes to onboarding stateful distributed or clustered applications, cloud resources on demand is not really a sufficient solution and significant planning and architecture adaptations are required.
Modern Enterprise apps often characterized by a data heavy/centric nature, relying on Big-Data pipelines or NoSQL databases, have architecture implications that are not easily solvable on the cloud.
Learn what others are attempting and some already doing to make cloud work given these challenges. The session will include a discussion of the latest trends and best practices as well as guiding points to consider.
Dave Bartoletti is a Principal Analyst at Forrester Research. Dave has developed, delivered, supported, and marketed game-changing technologies for more than 25 years as a software executive at several high-profile technology and financial services leaders. He was at the forefront of the middleware, web, virtualization, automation, and cloud computing tech disruptions as both vendor and consumer.
Razi Sharir, VP of Products and Marketing at Robin Systems. Razi is a veteran product management executive and joined Robin from CA Technologies, where he lead the SaaS Center of Excellence and Product Management for the team that developed a container-based Enterprise PaaS geared for modern application economy.
Robin for Big Data
Robin for Enterprise Applications Challenges