Delivering effortless hyperautomation to build and drive high-performing 5G networks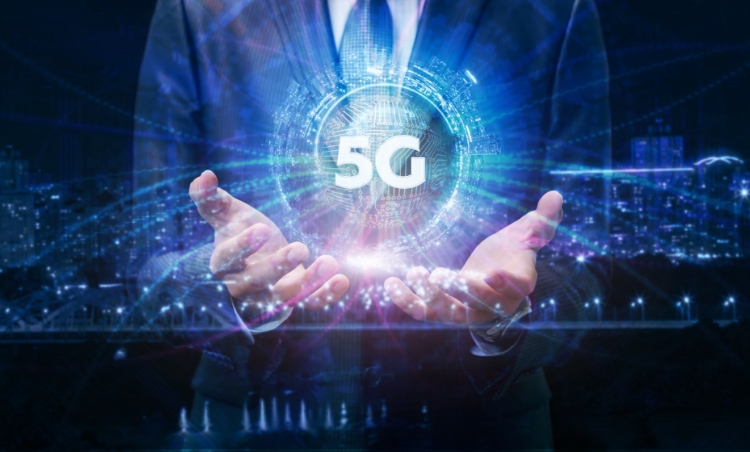 5G is seeing rapid adoption due to its promise of high speed, seamless delivery and low latency, that enables it to deliver new and exciting revenue-generating services. Studies reveal that there will be 1.2 billion 5G connections by 2025, covering a third of the world's population.[1] 5G will play a critical role in enabling the next-generation of applications and services, like gaming, trade and Industry 4.0, in general.
First things first, the momentum and the scale promised by next-generation mobile networks demand significantly more infrastructure support than the previous cellular generations. Industry estimates show that 50 base stations will be required for every square kilometer to meet the stringent speed and coverage that 5G is expected to deliver.[2] For example, San Jose, California, will need approximately 23,300 base stations, considering the size is 466 km2. In practice, 5G cannot drive any of its desired results without specifically tailored infrastructure at the edge to backend. At this scale, supporting hardware, cloud platforms and services software through manual operations will limit scale and time to market, posing a tremendous risk, and costing operators billions.
Unfortunately, legacy vendors' platforms, used to deliver NFs and services, rely on status quo life cycle management and are incapable of facilitating rapid 5G buildouts. Most of today's popular single vendor solutions are based on their legacy solutions, with a bolted on, poorly integrated container automation solution, rebranded as cloud-native – creating operations and resource sharing silos. Furthermore, most of these employ legacy storage solutions piped through a Container Storage Interface (CSI) that are not suitable for business continuity and disaster recovery of stateful containerized edge applications. Regardless of their flashy marketing pitch, these legacy solutions will undoubtably choke future edge deployments somewhere down the line, limiting expansion, creating even more siloes. Lastly, dependency on a single vendor, with a lack of disaggregation severely affects one's capacity to innovate or scale rapidly – not to mention the cost and opportunity disadvantages.
One of the many things that makes Robin.io different is that we've built our products from the ground up to support the needs of 5G, from edge to core, focusing not only on feature and functionality but ease of use and unprecedented automation. Robin's full functionality isn't locked behind complex CLI requiring years of expertise. Anyone can operate it! One tier-1 MNO has built a cloud-native, open vRAN software 4G/5G network, leveraging Intel technology, QCT servers and Robin.io's Kubernetes automation and orchestration platforms. The resulting cloud-native deployment model is optimized with Robin.io's innovative application-aware storage and carrier-grade networking.
What is Robin.io's 5G hyperautomation?
Robin.io's hyperautomation capabilities combine the powers of robotic process automation, AI/ML and related technologies to make automation intelligent and powerful. They cover multiple domains that include bare metal servers, cloud platforms, applications, services, transport-to-cloud network slicing and third-party devices – all of which are driven by automated policies up and down the solution stack.
Used in many industries, including telecommunications, Robin.io's hyperautomation capabilities enable MNOs to remotely control their entire software and hardware stack, achieve "one-click" service delivery, and rapid scaling and deployment across multiple domains in the solution stack – not just one or two at a time. It is an essential reality for operators who are building on the 5G promise by adopting a digital-first approach. From identifying risks to improving response times, achieving FTR, and significantly reducing costs, Robin.io is supporting multiple 5G use cases with scale and precision. It packs the below benefits:
Real-time responsiveness: The use of Robin.io in 5G networks will enable the network to be more flexible and responsive, which will make it easier for it to adapt to changes in real time. Every element and construct in the solution is automated by a rich set of user defined policies. There is never any hunting for resources or hardcoding required.
Higher efficiency: End-to-end automation makes 5G networks extremely efficient, improving the ability to detect incidents and fix them with amazing precision.
Improved operational performance: Automation can be used to help the network manage its resources and improve performance. With hyperautomation, 5G networks will be able to achieve the higher speeds and lower latency rates that the industry expects.
Increased security: Kubernetes' granular containeriztion provides stricter version control and better automates rollbacks, if a security vulnerability found in the new code. Additionially Kubernetes reduces human error that can lead to security failures with the low-latency, high speed promise of 5G, it is expected to transform several critical sectors, including healthcare, logistics and defense. Hyperautomated 5G networks will also be more reliable because they will use less manual intervention than before, and hence are prone to less human errors.
Integrated full solution stack functionality: Built from the ground up to automate bare metal to services, as well as 3rd party physical and virtual elements.
Lower costs: Automating the network end-to-end makes good business sense, as it brings down operational costs, like the cost of maintaining the ever-increasing number of base stations that makes truck rolls and onsite troubleshooting extremely costly.
Robin.io – Cloud-native software-defined orchestration and hyperautomation for telecom service delivery
Robin.io delivers hyperautomation for service delivery with 1-click application pipeline deployment and much lower infrastructure and operations cost, and facilitates a hybrid cloud strategy for all telco applications. The Robin.io telecom platform includes an application-aware automation fabric with built-in application-aware high-performance, storage, ultra-high-speed networking and data management features to support the demands of the new-age applications for IoT and wireless providers.
Robin Multi-Data Center Automation Platform (MDCAP) automates the deployment and management of network functions, RAN, packet core and MEC in minutes.
MDCAP is multi-cluster-aware and can simultaneously run in multiple data centers. You can centrally manage hundreds of thousands of CNF and VNFs capable Kubernetes clusters, while deploying their complete solution stack, including Robin Cloud Native Platform (CNP) in minutes at any edge, far-edge and core data center.
MDCAP brings cloud agility to bare-metal infrastructure. You can automate all bare-metal lifecycle management tasks from auto-detecting, assessing readiness, installing, policy modeling, configuring and setting up BIOS, OS, FPGA, GPU, firmware, storage and networking.
MDCAP enables cloud hosting with shared resources, user self-service and -as-a-service applications. It is built from the ground up to be multi-tenant, so there is no need to run a separate instance for every business entity. It also has granular roles-based access (RBAC) that can be customized for each tenant.
MDCAP and CNP support VMs and containers, even on the same Kubernetes worker node, in a way that optimally shares resources and eliminates operations silos associated with legacy solutions
MDCAP and CNP together provide advanced monitoring and planning capabilities with deep insight into all elements: physical resources, cloud platform, NFs and services. They can correlate and display views across any strata from a full drilldown to a solution-wide, multi-cluster view.
Through efficient Method Of Procedures (MOPs) management, you can define any step-by-step sequence for performing virtually any task.
You can bring up an entire cell site in minutes with zero-touch deployment and configuration automation, with 1-click migrations from core to edge and far edge.
The Robin.io telecom platform is a single tool to deploy and manage the scale and performance of the entire telco app stack. It reduces the cost of operations and brings increased efficiency to the deployed infrastructure.
To know more about Robin.io for telecom, click here
[1] https://www.gsma.com/futurenetworks/ip_services/understanding-5g/5g-innovation/#:~:text=5G%20powering%20ahead%20in%20China,-Friday%203%20December&text=Digest%20%7C%20Latest%20News-,The%20Chinese%20mobile%20operators%20have%20reported%20a%20sharp%20increase%20in,which%20GSMA%20Intelligence%20estimates%20…
[2] https://techblog.comsoc.org/2020/08/07/5g-base-station-deployments-open-ran-competition-huge-5g-bs-power-problem/