Robin.io Covid-19 Status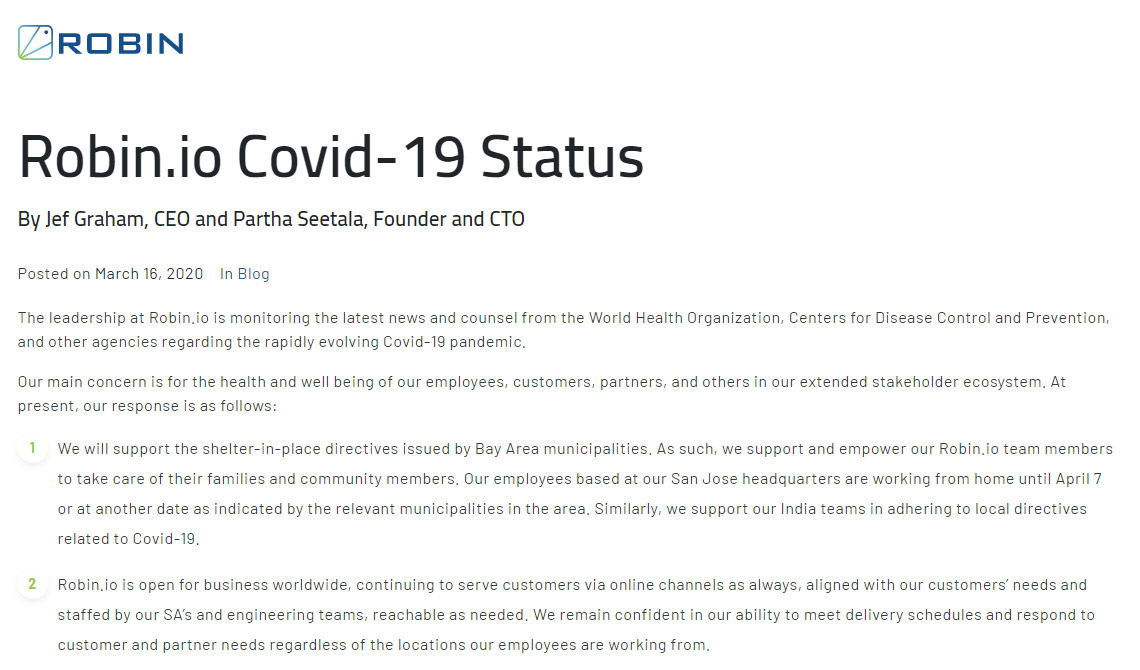 The leadership at Robin.io is monitoring the latest news and counsel from the World Health Organization, Centers for Disease Control and Prevention, and other agencies regarding the rapidly evolving Covid-19 pandemic.
Our main concern is for the health and well being of our employees, customers, partners, and others in our extended stakeholder ecosystem. At present, our response is as follows:
We will support the shelter-in-place directives issued by Bay Area municipalities. As such, we support and empower our Robin.io team members to take care of their families and community members. Our employees based at our San Jose headquarters are working from home until April 7 or at another date as indicated by the relevant municipalities in the area. Similarly, we support our India teams in adhering to local directives related to Covid-19.

Robin.io is open for business worldwide, continuing to serve customers via online channels as always, aligned with our customers' needs and staffed by our SA's and engineering teams, reachable as needed. We remain confident in our ability to meet delivery schedules and respond to customer and partner needs regardless of the locations our employees are working from.

Like the rest of our industry, you can find us online at virtual industry events that are taking the place of physical events this spring and summer, including the Wall Street Technology Association "Infrastructure for Innovation" event on March 19.
All of us at Robin.io are grateful for the continued support of our partners and customers, and we encourage everyone to heed the counsel of recognized experts. Stay well.