Jai Menon Brings Deep Enterprise Storage Expertise to Robin.io Advisory Board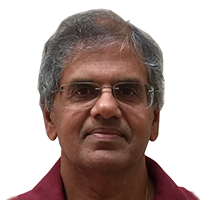 Renown innovator to help company deliver application automation message to large enterprises
SAN JOSE, Calif.—AUGUST 13, 2020—Robin.io, the 5G and Enterprise application automation platform company, has appointed Jai Menon to the company's board of advisors.
Menon currently serves as chief scientist at Fungible, which he joined after having served as CTO for the multi-billion dollar Systems businesses units at both IBM and Dell. He was an IBM Fellow, IBM's highest technical honor, and one of the early pioneers who helped create the technology behind what is now a $20B RAID industry. He was also the leader of the team that created the industry's first, and still the most successful, storage virtualization product. When he left IBM, Menon was CTO for Systems Group, with a team of more than 15,000 developers. In 2012, he joined Dell as VP and CTO for Dell Enterprise Solutions Group. In 2013, he became Head of Research and Chief Research Officer for Dell.
Menon holds 53 patents, has published 82 papers, and is a contributing author to three books on database and storage systems. He is an IEEE Fellow and an IBM Master Inventor and a recipient of the IEEE Wallace McDowell Award and the IEEE Reynold B. Johnson Information Systems Award. He serves on several university, customer and company advisory boards.

About Robin.io
Robin.io, the 5G and application automation platform company, delivers products that automate the deployment, scaling and life cycle management of data- and network-intensive applications and for 5G service chains across edge, core and RAN. The Robin platform is used globally by companies including BNP Paribas, Palo Alto Networks, Rakuten Mobile, SAP, Sabre and USAA. Robin.io is headquartered in Silicon Valley, California. More at www.robin.io and Twitter: @robin4K8S. 
Robin.io, the Robin.io logo and Robin Platform are trademarks or registered trademarks of Robin.io and are protected by trademark laws of the United States and other jurisdictions.  
Media Contact:
Robert Cathey