Core Elements to Running an Oracle Database Using Docker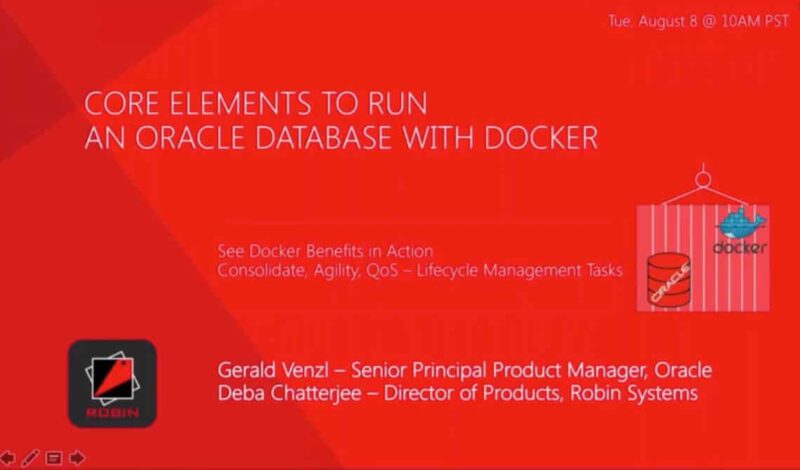 Want to Try Running Oracle Database Using Docker Yourself?
Connect with our solutions team. You will be running production ready Oracle clusters using Docker in no time.
I want to Run Oracle Database on Docker
Core elements to run an Oracle Database using Docker from Robin Systems on Vimeo.
Core Elements to Running an Oracle Database Using Docker
In the last few years, Docker has been widely adopted in the stateless application space. Large enterprises have now started to explore the idea to use Docker to run stateful database and big data applications as well. Docker containers are light-weight, portable, and provide a great alternative to VM based virtualization while ensuring bare-metal grade performance. Running Oracle Using Docker is now a breeze with Robin Hyper-Converged Kubernetes Platform
Running Oracle Using Docker
See Docker Benefits In Action – Consolidate, Agility, QoS
In this joint webinar by Robin Systems and Oracle Corporation, we will go over the essentials that you need to run the Oracle database inside a Docker container. We will also explore the core elements required to use containers to consolidate databases without compromising performance while guaranteeing isolation and no manageability changes.
During the demonstration, you will see how the various different database lifecycle management tasks can be done with just a click of a button on the Robin Hyper-Converged Kubernetes Platform.
Deba Chatterjee, Director of Products, Robin Systems
Deba Chatterjee is the Director of Product management at Robin Systems. Prior to his current role, he was the product manager at Oracle Corporation responsible for the Oracle Multitenant option and Oracle Diagnostics and Tuning packs.
Before product management, Deba worked for the performance services team in Oracle Product Development IT, where he was responsible for the performance of large data warehouses.
He has previously worked at Oracle Consulting, Oracle India, Michelin Tires in Clermont-Ferrand, France, and Tata Consultancy Services. Deba has a Master's in Technology Management – a joint program by Penn Engineering and Wharton Business School.
Gerald Venzi, Senior Principal Product Manager, Oracle
Gerald Venzl is a Senior Principal Product Manager for Oracle. During his career he has worked as a Developer, DBA, Performance Tuner, Software Architect, Consultant and Enterprise Architect prior to his current role. This allowed Gerald to live several different lives in the IT sector, providing him with a solid understanding of the concerns in those individual areas while gaining a holistic view overall. In his current role, Gerald focuses on evangelizing how to build systems that provide flexibility yet still meet the business' needs.
Robin for Relational Databases – Oracle