Five Reasons To Choose Dell and Robin Cloud Native Platform For AI/ML (Blog series – Part 3 of 3)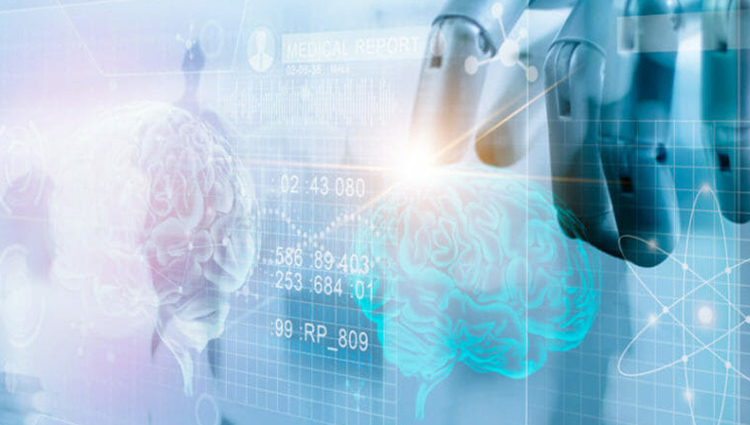 In part 1 and part 2 of this series, we examined how AI/ML can help improve healthcare and the challenges faced by AI/ML teams in realizing the benefits respectively. In this part, we will explore how Robin and Dell can help overcome these challenges.
Why Robin?
The path to AI/ML nirvana requires a consistent process for trial, evaluation, and incorporation of machine learning technologies. As the healthcare industry continues to adopt new artificial intelligence (AI) and machine learning (ML) technologies, it is essential to develop a repeatable process for managing and deploying these solutions. This part discusses how to address challenges currently faced by data scientists seeking enterprise solutions for AI and ML development using Robin's Cloud Native Platform. This includes how they can maintain dedicated environments, how to scale up and integrate services, and how to build resilient applications that can adapt to evolving business needs. These themes complement the high-level architecture of the custom AI/ML solution with Robin Cloud Native Platform.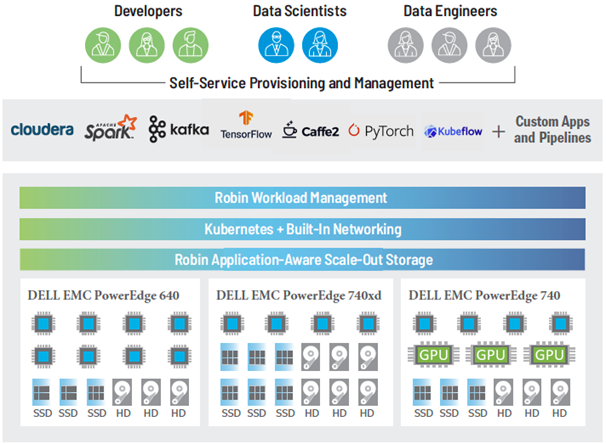 Robin leverages cloud-native technologies such as Kubernetes and Docker to modernize the management of your data analytics infrastructure. The Robin Kubernetes-based architecture gives you complete freedom and offers a consistent self-service capability to provision and move workloads across private and/or public clouds. Native integration between Kubernetes, storage, network, and application management layer enables full automation managing both clusters and applications with all the advantages of a true hybrid cloud experience. Robin.io has built-in the capability to create managed application snapshots that enable cloning, backup, and migration of applications between on-prem and cloud or between datacenters within an enterprise. Organizations that adopt the Robin platform benefit from accelerated deployment and simplified management of complex applications that can be provisioned by end-users through a familiar portal experience and true hybrid cloud flexibility.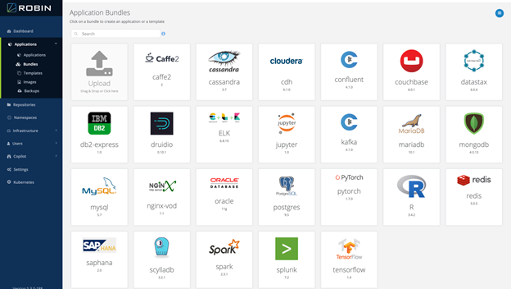 Self-service Experience
Robin allows creating a private app store that your developers can use to provision databases, eliminating IT tickets and procedural delays. Simply log into an app-store experience, click on the desired application, and allocate the compute and storage resources. Your application will be deployed and ready to use within minutes. Robin fully automates the end-to-end cluster provisioning process for the most challenging platform deployments including Cloudera, Apache Spark, Kafka, TensorFlow, Pytorch, Kubeflow, Scikit-learn, Caffe, Torch, and even custom application configurations.
Automation of app lifecycle operations
Developers can simplify and automate deployment, reduce service delivery timeframes, and increase resiliency. They can easily scale up by adding more memory, CPU, or storage resources, or scale out by adding more nodes with simple one-click operations. The data science team can self-manage day-two operations such as scaling and backups, the ability to take snapshots, collaborate across teams by sharing entire environments, Archive entire experiments.
Performance at Scale
Robin easily scales up to 1000 applications, 100 users, 100 nodes per cluster at a time. Robin also provides advanced QoS, Self-scaling & Auto healing capabilities built into the platform.
Multitenancy
Robin's Multitenancy feature makes it easier to create multi-tenant environments. It provides the ability to logically and physically separate resources among the tenants. Developers can avoid noisy neighbor problems by taking advantage of the features.
RBAC & Security
Robin's Role Based Access Control provides fine-grained control over the applications and actions the users can perform on them. In addition, developers can choose to encrypt their data volumes. Robin provides options to encrypt the data at rest and in motion.
Why Dell?
Dell is a leading provider of storage, servers, networking & solutions for a wide variety of workloads. We strive to partner with truly innovative companies that have strongly differentiated solutions that plug key holes in our portfolio. Robin Systems is one of those companies. We work closely with Robin Systems solving real-world problems for our joint customers. We are looking to jointly leverage our capabilities to improve customer agility, performance, management, time to market, and efficiency while solving key needs for select workloads.
We are keen to position Robin Systems for our Big Data as a service (BDaaS) and Database as a service (DBaaS) needs.
Our server lineup offers customers a wide choice of form factors with and without accelerators like GPUs. Servers are available with processors from both AMD & Intel. We can support Robin's disaggregation of compute and storage or offer converged nodes. Various use cases and customer preferences will drive that design choice.
Some examples of workloads enabled by the Robin platform include:
NoSQL databases such as Cassandra, MongoDB, Couchbase, and Neo4j.
Streaming and messaging with Flink and Kafka
Deep Learning with frameworks like TensorFlow & Pytorch.
Machine learning cultivated pipelines with Spark and scikit-learn.
Relational databases such as MySQL, PostgreSQL, MariaDB, and Oracle.
Search engines like Elastic Search & Solr.
The beauty of the Robin platform lies in the ability to house many differed workloads, stacks, products, and components in a multi-tenant fashion on the same shared infrastructure.
At Dell Technologies we work hard to integrate solutions such as Robin with select assets in our portfolio.
Summary
Healthcare organizations adopting the Robin platform benefit from a single approach to application and infrastructure management from experimentation to dev/test to a production environment that can span multiple clouds. Robin excels at managing heterogeneous infrastructure assets with a mix of compute, storage, and workload accelerators that can match the changing needs of fast-moving enterprise-wide demand for resources.
With the Robin platform, organizations can:
Decouple and scale compute and storage independently
Provision/Decommission compute only clusters within minutes for ephemeral workloads
All operations can be fully integrated with simple API commands from your development and/or production workflows.
Migrate data workloads among data centers and public clouds
Provide the self-service capability for developers and data scientists to improve productivity
Eliminate planning delays, start small, and dynamically scale up/out nodes to meet demand
Consolidate multiple workloads on shared infrastructure to improve hardware utilization
Trade resources among application clusters to manage cyclical compute requirements and surges
This results in,
Better patient care
Improves clinical outcomes
Reduced Costs
Delivering faster insights
Future-proofing the enterprise
For more information about this solution, visit us